A forum for sharing the latest developments in the field and promoting the scale-up of regenerative medicine manufacturing technologies.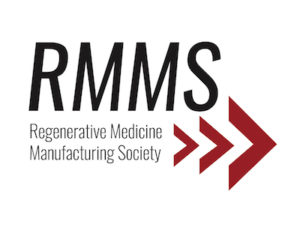 RMMS is a new organization that has a vision of enabling the adoption of manufacturing platform technologies into standards, regulatory pathways, and commercial products by assembling a diverse network of stakeholders. These stakeholders fall into these major categories: (1) Industry, (2) Academia (basic and clinical research), (3) Regulatory Agencies, (4) Non-Profit Organizations, and (5) Investment and Funding Agencies. RMMS has a strategic goal to bring these stakeholders together to achieve a number of regenerative medicine manufacturing aims, including the following: (1) Enabling the Development of scale up tools and reagents; (2) Enabling the development of Standards; and (3) Seamless integration of platform technologies with regulatory pathways.
Inaugural Meeting of Regenerative Medicine Manufacturing Society to be held at World Stem Cell Summit
Hyatt Regency, Miami, Fl.
Jan. 22-26, 2018

If you are part of the field of regenerative medicine and want to be involved in a ground-floor initiative to apply the principles of advanced manufacturing to the field, don't miss the World Stem Cell Summit!
The 2018 summit will host the inaugural meeting of the newly formed Regenerative Medicine Manufacturing Society on Jan. 26 in Miami, Fla. The summit and society meeting are "must attend" events for anyone interested in advancing regenerative medicine through manufacturing.
The summit itself will include parallel sessions on manufacturing.  And, the Regenerative Medicine Manufacturing Society meeting will include lectures and discussion on many topics pertinent to the field -- from regulations and automation to bioprinting and scale-up.
If you are already registered for the summit, there is no need to register separately for the Regenerative Medicine Manufacturing Society meeting.  If you are not registered for the summit, society members will receive a 10 percent discount. Use discount code WSCS10 when registering.
RSVP for the 2018 Inaugural RMMS Meeting